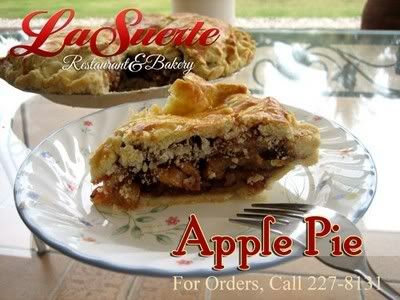 Every Christmas season, everybody receives fruitcakes. But once in a while, some of us are lucky enough to get an apple pie instead. In a tropical country such as ours, apples are expensive and apple pies even more expensive. And some apple pies are even not worth their hefty price tag.
But there's a rare find in Davao City: an apple pie that everybody approves of. It's filling made of fresh apples in genuine apple sauce that's not too sweet, flavored with cinnamon. The filling is enclosed in a buttery flaky crust that's good even on its own.
This delectable apple pie is baked in the oven of Mam Bebs Bakeshop and Refreshment Parlor (formerly La Suerte Restaurant and Bakery). A whole pie is sold at PhP 400.
Mam Bebs is located along CM Recto Street in the heart of downtown Davao City. To order, call (082) 227-8131 or (082) 300-7403.